Shorts worker awarded £11,500 after 'chilling' sectarian abuse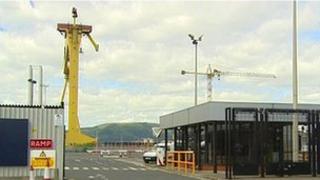 A Catholic worker employed by Shorts/Bombardier has been awarded £11,500 after he suffered serious sectarian harassment at the hands of a work mate.
The man received a series of texts which a judge described as "chillingly frightening sectarian texts".
He suffered mental health problems as a result of the harassment.
The judgement was delivered in mid December, but details have just been released on the courts service website.
The judge found that attempt by Shorts management to adopt a "hands off" approach by referring the matter to the police did not release them from liability.
"The reality of this shop floor is that, with full knowledge that a long-serving employee of good standing and proven integrity reported chillingly frightening sectarian texts to various managers, the employer did nothing beyond providing a room for police interviews," the judge said.
"It is the conclusion of the court that the harassment in the form of text messages emanated from an employee and was so closely connected with the nature and circumstances of the plaintiff's employment (and was reasonably incidental to it) that it is fair and just to find this employer liable in the absence of any valid defence."
The judge also found that after the abuse was reported in 2007, Shorts failed to implement its own policies on bullying.
The judgement also stated that when the man's phone was passed to the Harbour Police they failed to forensically examine it and just left it in a drawer for two months.
When the phone was handed back, the man received further sectarian texts on it.
A consultant psychiatrist who gave evidence on behalf of the man found Short's failure to properly investigate the matter made the man's health worse.
"My initial diagnosis is post-traumatic anxiety state, the initial trauma being the threatening text messages," he said.
"But in my opinion, his symptoms have been perpetuated and exacerbated by his perception of the failure of his employer to take action to investigate, identify and abolish this harassment."
In a statement, Shorts Bombardier said it was "understandably very disappointed with not only the court's findings, but also the judge's comments, in the context of the evidence given by both sides in the case."
The company's solicitors have lodged an appeal and said, given the circumstances, it would be inappropriate to comment.
They did, however, point out that the man in question had been employed with the company for "20 happy, hassle-free years" - a fact noted in the judgement, up until what Shorts described as the "totally unacceptable, but isolated, incidents".
"Our company does not tolerate harassment of any kind in the workplace and applies robust equal opportunity policies in order to maintain a neutral working environment for all its employees," the statement said.