Please your honour, the President wants me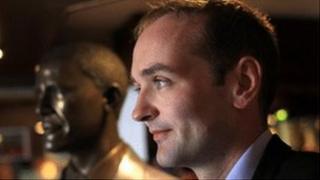 US President Barack Obama's Irish eighth cousin Henry Healy has a unique reason for asking to be excused jury duty on 20 March.
Mr Healy has been invited to the White House by the president on that date.
However, he had been served with a summons for jury duty at Tullamore in County Offaly on the same day.
Mr Healy has written to court authorities that he will be otherwise engaged on 20 March and has asked to be excused.
He is still waiting on a reply.
Mr Healy told the Evening Herald newspaper he did not realise the significance of his call up for jury duty at first.
"It's a strange one alright," he said.
"Who would have thought this time last year that we'd be planning a trip to the White House.
"This is a once in a lifetime opportunity."
Mr Healy said he planned to be in New York on Saint Patrick's Day, then to travel to the White House, before visiting Boston, where a new film The Road to Moneygall will be screened as part of the Boston Irish Film Festival.
Also invited to the White House is Moneygall pub owner Ollie Hayes in whose pub President Obama drank a pint of Guinness.
Moneygall is believed to be the birthplace of the president's great-great-great-grandfather.