Man sprayed in face with fire extinguisher during robbery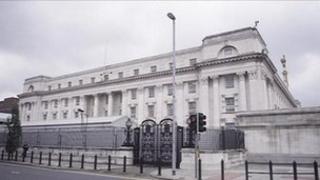 A Filipino man was sprayed in the face with a fire extinguisher as burglars broke into his home and stole his car, the High Court has heard.
Aaron Goddard, of Grovefield Place, Belfast, faces charges of aggravated burglary, aggravated vehicle taking, and possession of an offensive weapon with intent.
The 21-year-old is one of two men accused of the robbery.
The victim's wife was assaulted during the break-in early on Sunday morning.
The High Court heard she was "roughly hugged" by one of the intruders in their north Belfast flat.
Two suspects were arrested after the stolen Ford Focus, valued at £15,000, crashed at another location in the city.
Refusing Mr Goddard's bail application, a judge said: "This was an outrageous intrusion into two people's private lives in the early hours of the morning."
The victim had lifted a hammer to protect himself after two men forced their way into his Fortwilliam Grange home, demanding to know the whereabouts of another man, the court heard.
It was alleged that Mr Goddard prized the tool from him before he was ordered to lie down on the floor.
Prosecuting counsel Tessa Kitson said: "At this point the second male discharged the fire extinguisher into his face."
The barrister claimed the victim's wife then emerged from the bedroom to be confronted by one of the drunken intruders.
"She was, in effect, very roughly hugged," Mrs Kitson said.
Keys, mobile phones, an Xbox games console and the contents of a woman's handbag were stolen along with the Ford Focus.
The car later came to a halt after police spotted it being driven erratically along the Shore Road.
Mr Goddard claimed he had gone to the flat to get money owed to him by another man.
He told police he took the fire extinguisher from a communal hallway to gain entrance but got the wrong address, the court heard.
The hammer was allegedly taken from the Filipino occupant in self-defence, with Goddard denying he stole anything other than the Xbox.
According to defence barrister Denis Boyd's instructions, it was the co-accused who sprayed the extinguisher and then got behind the wheel of the car.
But as he denied bail, Lord Justice Coghlin said the victim must have been very frightened by the "extremely mean offences".