Irish Traveller Movement calls for calm after murder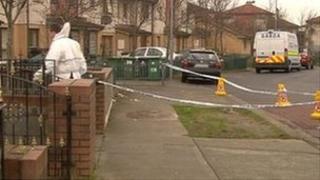 The Irish Traveller Movement (ITM) have issued an appeal for calm following the murder of a 16-year-old girl in Dublin.
Melanie McCarthy MacNamara died after a gunman targeting another man shot through the wrong window of the car in which she sat.
She is believed to be the youngest ever victim of gangland crime in Ireland.
In a statement the ITM said they "acknowledge the nature of Melanie's death has caused understandable shock and distress".
"We appeal for calm and ask people to offer full cooperation to the Garda in their pursuit of Melanie's killers - in what is the appropriate way for justice to be done."
The teenager, who was a settled traveller, was sitting in a car at Brookfield Way in Tallaght, at 2235 GMT on Tuesday, when a gunman opened fire at point blank range from a passing jeep.
The 16-year-old was shot in the head and died later at Tallaght Hospital.
Her family said she was "a complete innocent" who had never had an argument with anyone and was not involved in any feuding.
Detectives have said they do not believe the teenager was the intended target.
This morning gardai investigating the murder of the teenager confirmed that a shotgun, believed to be the murder weapon, had been found.
The gun was located in the area where the gunmen abandoned the getaway vehicle off the Naas Road near Citywest.