Abandoned donkeys found by roadside in Armagh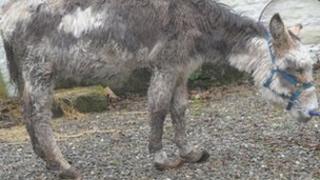 Four donkeys have been rescued after being found abandoned on a road in Armagh.
The four stallions were reported to police by a member of the public.
All had been abandoned with no access to food or shelter, and were found hungry, wet and cold. They are being looked after by the Donkey Sanctuary.
One in particular is in a very poor state - extremely thin, with overgrown and twisted hooves, and a matted and mud-covered coat.
Marie McCormack, the Donkey Sanctuary's welfare officer involved in the rescue, said: "I have never seen donkeys so hungry or desperate for shelter and warmth.
"Normally donkeys need a bit of encouragement to walk onto a lorry, but these four walked straight on having seen the hay net at the back and tucked in eagerly. It must have been some time since they were last fed.
"All of the donkeys are underweight, exhausted and clearly in need of care, but it is the young skewbald that concerns me most.
"He looks a really sorry sight with very twisted and overgrown hooves that were clearly the result of quite a long period of neglect and must be causing him much pain. Only time will tell whether he is able to fully recover from his ordeal."
She said all four donkeys will get any specialist veterinary or farrier treatment they need.
"They are now guaranteed warmth, shelter, nourishment and a secure future with the charity, and we will do all we can to give them the best chance possible of returning to full health," she added.