Board tackles lead flashing theft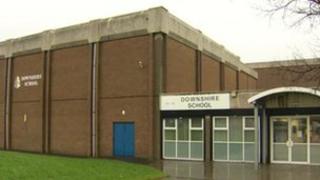 The North Eastern Education and Library Board has spent £45,000 in nine months repairing damage done by thieves stealing lead flashing from school roofs.
To try to deter future criminals the board is replacing the valuable lead with bitumen and metal sheets.
Downshire School in Carrickfergus has been targeted twice in 18 months.
The principal said CCTV footage showed hooded thieves scaling fences and walls to get at the lead flashing.
"It's a very slick operation and they have obviously done this before," said Jacqueline Stewart.
"When the lead is stolen and leaks appear, it disrupts the work of the school.
"Not only that, it costs the board thousands of pounds and that is a shame when budgets are so tight."
The solution has been to find a substitute which will not be attractive to the very determined thieves.
The maintenance department is trying to replace all lead with bitumen and metal sheeting.
Kevin O'Hanlon, a NEELB maintenance officer, said the new sheeting makes theft pointless.
"There's no point in them climbing up there because the lead substitute has no resale value," he said.
"We've replaced much of the lead in the 280 buildings I look after."
The education board said it wanted to spread the word about the thefts, partly to let criminals know it is not worth their while climbing on to roofs.