Lawyers who sued government may get £2m pay-out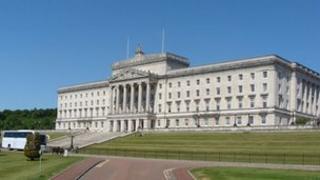 The Public Prosecution Service (PPS) is to pay a six-figure sum to settle a lawsuit involving more than 50 lawyers employed by the Civil Service.
The lawyers sued the Department of Finance (DFP) and the Northern Ireland Office (NIO) in the High Court for breach of contract.
It was settled out of court in December and is estimated could cost around £2m.
The DFP said they could not comment on the case until a final settlement is reached.
However, in a written assembly answer, Finance Minister Sammy Wilson revealed the lawsuit related to 53 lawyers - 22 of them employed by the PPS.
Mr Wilson topped up the PPS budget recently with an extra £2.6m due to financial pressures related to the settlement.
MLAs Paul Givan, the chairman of the justice committee, and the TUV's Jim Allister have tabled written questions about the issue.
It is known the case dates back to 1996, so the NIO has agreed to meet some of the costs.
The legal costs for both sides are estimated at £250,000 and will be paid from the public purse.
The assembly's finance committee was briefed on the issue last December.
A senior finance department official indicated that as well as compensation there would be a pension consequence from the settlement.
Dominic Bradley, SDLP, asked for more background on the case and was told staff affected currently work across the Department of Finance, the PPS and the Crown Solicitors Office in the NIO.
Paul Maskey, Sinn Fein, questioned why the NIO was not covering all the costs "since it dates back to before devolution".
However, he was told the liability was passed to the Northern Ireland Civil Service on devolution.
It is understood the final bill could be split three or four ways to include not just the NIO, but the Department of Justice along with the DFP and the PPS.