Bangor pilots taxi wardens scheme to help clubbers get home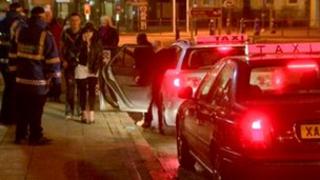 A County Down town has introduced taxi wardens to ensure pub and club-goers get home safe.
Bangor's town centre management has started the pilot scheme in recent weeks.
Over the next few months the wardens will organise queues at taxi ranks on Thursday, Friday and Saturday nights.
The scheme aims to crack down on illegal taxis and prevent confrontations between people trying to get home at the end of a night out.
The wardens will help people form a queue and then allocate taxis to them. The main taxi rank in Bangor has also been moved from High Street to closer to the seafront.
Ernie McCurdy, from the North Down and Ards Road Safety Committee, has seen the scheme in action.
"Taxis were left to their own devices and they double parked at the bottom of High Street," he said.
"The road was blocked on occasions particularly when people were coming out of the pubs.
"So this initiative has taken the taxis 50 yards away from the bottom of the street."
But North Down councillor Austin Lennon said people will get hurt crossing the road to line up.
"I think it is a great start. But I think if I had my way, I would stop it right away because I think it is really dangerous," he said.
"Because we have a lot of people who have drink coming across from the nightclubs and they are crossing a double road there.
"And really, when people have got drink in them it is dangerous."
Several taxi drivers told the BBC they were happy with the new system because it simplified things, but others argue that while it might be a good idea in theory, it is not in practice.
For example, if a taxi is at the front of the queue and the fare wanted to go to Belfast, the driver may only want to take a job in Bangor.
Andrew McQuillan runs the company that supplies the wardens.
He said: "I think it is a much fairer system. People can still pre-book taxis, so we have had taxis from other areas come in and use the rank or around it and collect their fares.
"So it just creates a safe area where people can collect.
"The key thing is that it has to get bedded in. We will be able to sort of manage it whereby people who are going to certain areas will be more fairly treated."