Belfast Windsor House office block firm goes bust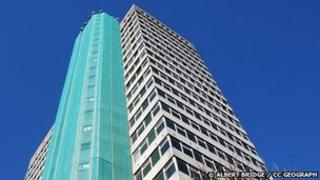 The company which owns the Windsor House office block in Belfast city centre has been placed into administration.
Lauderdale Properties bought the Bedford Street office block in 2007 with the reported intention of converting it into apartments.
Lauderdale was a joint venture between Dublin developer Ray Grehan and Cavan based P Elliott construction group.
Mr Grehan and P Elliott are among the casualties of the Irish property crash.
Mr Grehan was declared bankrupt in London in December 2011.
He was being pursued over a 300m euros debt owed to the Irish government's National Asset Management Agency (Nama).
P Elliott was placed into receivership in May 2011 with debts of about 500m euros.
Its share of Windsor House was held by a company called Dorwins Investments.
Its last filed accounts for the year ending December 2008 showed assets of £16m and liabilities of about £17.5m.
Windsor House was mortgaged with Bank of Ireland, meaning they probably appointed the administrator.