Hospitals urged to check water for pseudomonas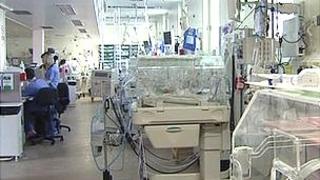 The chief medical officer has written to all Northern Ireland's health trusts asking them to check for Pseudomonas bacteria in their water supply.
The letter asks that areas where vulnerable patients are treated, such as intensive care units, are paid particular attention to.
The advice follows the deaths of four babies from the infection in neo-natal units in Belfast and Londonderry.
The bug has also been found in neo-natal units at three other hospitals.
Water tests from Daisy Hill in Newry, Craigavon Area Hospital and the Erne Hospital in Enniskillen were positive.
Taps in neo-natal units across Northern Ireland have been changed and only sterile water is being used for the direct care of patients.
Speaking on the Nolan Programme, the assistant director of the Public Health Agency (PHA), Dr Lorraine Doherty, said the checks on the water supply were a precautionary measure.
"Just yesterday (Thursday) the chief medical officer wrote to the service again on the water testing issue," she said.
"He has offered advice for the patients who are in those areas we talk about - the high dependency unit, intensive care, oncology units, burns units - in relation to risk assessing their own areas in relation to Pseudomonas."
The PHA said that as of Tuesday, the total number of confirmed Pseudomonas infections associated with the Royal Jubilee Maternity Hospital (RJM) outbreak was seven.
The number of babies currently in neonatal units who have confirmed Pseudomonas colonisations and are associated with the RJM outbreak is six.
Five other babies have confirmed Pseudomonas colonisations. They are being cared for in Altnagelvin, Craigavon and Antrim hospitals.