What's your solution to the Transdniestrian problem?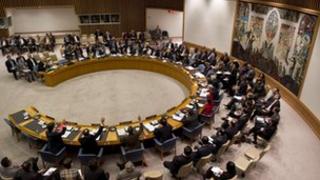 Have you given much thought lately to how we might settle the Transdniestrian problem?
I confess I haven't - as a former United Nations correspondent I like to think I keep across a fair range of international news - Syria, Libya, Afghanistan etc...
But Transdniestria? Hands up, you got me there.
No such luxury for the Irish Foreign Minister Eamon Gilmore, who as chair of the 56-strong Organisation for Security and Cooperation in Europe will later this month have to chair a round of peace talks between Moldova and its breakaway region of Transdniestria. The two sides were at war as recently as 1992.
Every conflict is unique, but just like the one on our doorstep the Transdniestrian issue involves ethnicity and language. The Irish foreign minister told the UN Security Council this week that in his new international role he will draw on Ireland's experience.
Mr Gilmore announced plans for a major conference in Dublin in late April which will focus on Northern Ireland as a case study.
He confirmed that the Good Friday Agreement talks chairman Senator George Mitchell will participate, adding that the Irish government believed "we can encourage those engaged in negotiations elsewhere to persevere in their efforts by showing that it has been possible to create and build peace in Northern Ireland and by explaining how this was achieved and how it is being sustained".
Coming just a week after the BBC revealed the news of European funding for a new Maze peace building centre, the Dublin conference is yet more evidence of a burgeoning "cottage industry" in exporting local lessons in conflict resolution around the world.
But coinciding with the grim news closer to home - the murder of a young man by republican vigilantes, the sentencing of another for the murder of two soldiers - it's reasonable to ask whether this export trade is premature.
Don't we have rather a lot left to do in getting our own house in order? Or can we teach others valuable lessons, even if our own transformation is less than complete?
Responding to the murder of Andrew Allen, Sinn Fein's Raymond McCartney challenged the media to bring those associated with groups like Republican Action Against Drugs on to the airwaves in order to justify their actions.
As regular listeners to BBC Radio Ulster's "Inside Politics" know, we did talk earlier this year to the Republican Network for Unity, a group which has sent fraternal greetings to the dissident faction known as "Oglaigh na hEirrean".
But these "oxygen of publicity" questions are hard to judge. If you seek out those close to such groups after a murder, does this somehow reward those responsible for their violence, or provide a space to ask the tough questions the public want answered. It's a dilemma which can only be judged on a case by case basis.
P.S. On an entirely different theme, on Thursday I talked to former Stormont finance committee clerk Alan Patterson about the overspend of nearly £9m on the civil service's Account NI project.
As so often with Public Accounts Committee hearings, the civil servants giving evidence made the argument that the events under discussion had happened a long time ago and everyone would be wiser with the benefit of hindsight.
Mr Patterson believes there's scope for better financial training for our politicians and the involvement of assembly committees at an earlier stage to try to prevent mismanagement occurring.
Right now when you watch these proceedings it always seems anyone who actually made a questionable decision has moved on, moved sideways or is otherwise unavailable.
It reminds me of the T.S. Elliot poem about "Macavity - the Mystery Cat", "there may be a scrap of paper in the hall or on the stair - but it's useless to investigate - Macavity's not there!".