Turkey holiday homes fraudster Kevin O'Kane is jailed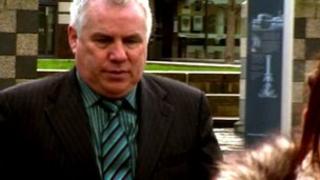 A County Antrim businessman has been jailed for four-and-a-half years for operating an international property scam in Turkey.
Kevin O'Kane, 52, from Ballynease Road in Portglenone, was found guilty of 151 charges connected to the fraud.
The court had heard the property scam involved a total of 59 investors who were duped into paying almost £4m for holiday homes which O'Kane did not own.
O'Kane had claimed he, himself, had been duped by a Turkish partner.
However, sentencing him to four-and-a-half years, Mr Justice McLaughlin said his claims were "preposterous" and he "had stretched his credibility to breaking point".
It was revealed in court that one of O'Kane's victims, who handed over £75,000, has been left with a monthly bank bill of £600 for the next 17 years.
His three-month trial at Belfast Crown Court, heard the charges arose after O'Kane portrayed himself as the landowner, builder and developer of the Golden Beach villas development.
However, as one victim put it, he "didn't even own a blade of grass".
O'Kane, originally an oil and coal merchant from the Bellaghy area, and his Turkish business partner spotted the villas for sale at a knockdown £45,000.
They thought they could buy them up and then sell them onto unsuspecting investors at a profit of £30,000 per villa.
The scam went wrong however, when they did not buy any of the properties with the money they had been given.
Welcoming the sentence, PSNI Detective Chief Inspector Kim McCauley said: "The sentence reflects the magnitude of the loss suffered by so many innocent people who were taken in by O'Kane.
"It also emphasises the seriousness of fraud offences and reinforces the message that they are not victimless crimes.
"O'Kane's actions have resulted in considerable hardship to a lot of families in a particularly difficult financial climate."
One victim, who lost £75,000, gave his reaction to the verdict against O'Kane.
"The major impact is I think something the judge said, which is the betrayal of trust," he added.
"The methods he (O'Kane) used to get into my trust.
"My wife's father died, an innocent victim of the Troubles.
"He referred to it by saying that he knew him well and he used to go to the GAA matches with him, which was total rubbish.
"But it was one of the tools he used to get into my trust."