Belfast city centre bus tour attacker 'now a pastor'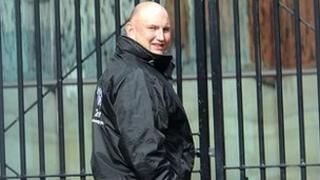 A former bus tour worker who punched a rival operator and banged his head off a kiosk in Belfast city centre is now a church pastor, a court has heard.
David 'Beefy' Cromie has moved to England where he has established his own congregation, his lawyer disclosed.
Earlier this week Cromie, 36, formerly of Seabourne Parade, Belfast, was found guilty of assault charges.
He was convicted in his absence. However, he was in court on Friday and will be sentenced next month.
Cromie was said to have been working for Allen's Tours when he punched Michael Johnston up to 10 times in a row over parking in September 2009.
Mr Johnston, 38, operations manager for City Sightseeing, Belfast, said he was threatened and then beaten and kicked on the ground until he drifted in and out of consciousness.
A bus driver witness also gave evidence that Cromie lifted the victim's head and banged it off a phone box at Castle Place in front of afternoon shoppers.
After his conviction, a warrant was issued for Cromie's arrest so he could be brought for sentencing.
A defence barrister told Belfast Magistrates' Court on Friday that the defendant was studying at college in England and returned to Northern Ireland once he realised he was being sought.
Richard McConkey also stressed that Cromie has no history of violence.
"He's a pastor in England and has his own congregation there," Mr McConkey said.
"He is someone I expect has never been in trouble before. He's now turned the corner."
District Judge Ken Nixon ordered reports to be prepared before sentence is passed.
Cromie is on continuing bail to return to court next month.