Tit Bonhomme search - final body recovered off Cork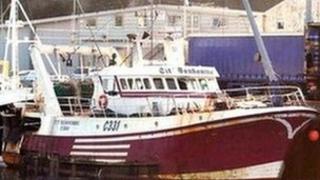 The body of the last of the missing crew members of the trawler Tit Bonhomme has been found.
Five men lost their lives when the vessel sank in heavy seas near Adam's Island on 15 January.
The body of Saied Ali Eldin has been taken by hearse from the village of Union Hall to Cork University Hospital.
The remains of the skipper of the Tit Bonhomme, Michael Hayes, was recovered at low tide on Wednesday.
The bodies of crewmen Kevin Kershaw, Attia Shaban and Wael Mohammed were recovered in January.
Another man was rescued from the water on the day of the sinking.
Valentia Coast Guard told RTE News Mr Eldin's body was found by one of the serach vessels at around 13:00 GMT on Friday.