Ex-priest James Donaghy sentenced to 10 years in prison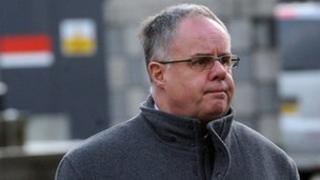 One of the victims of a former priest jailed for 10 years for sex abuse offences has said the trauma of what he went through was "horrendous".
James Donaghy 53, from Lady Wallace Drive in Lisburn, was convicted of 23 sex abuse charges against a young adult and two teenage altar boys.
A judge described him as a sexual predator whose victims were susceptible by virtue of their religious leanings.
Fr Pat McCafferty said the abuse he suffered was "brutal".
"It was worse than my mother's death three years ago almost," Fr McCafferty said. "The trauma of it was horrendous... (I was) physically sick during it at times."
Donaghy stepped down from the priesthood in 2004. The Catholic Church is holding its own investigation.
In a statement released in December, at the time of the verdicts, the Diocese of Down and Connor offered "sincere and unequivocal apologies to all those who have suffered abuse by clergy and religious".
Fr McCafferty said he was first targeted when he was a trainee at a seminary in Wexford.
"The first two incidents happened when he was a deacon and they were very traumatic to me, but the rest of the incidents were when he was an ordained priest of the Diocese of Down and Connor and I was a student," he said.
"There was no-one that I could have turned to in those days.
"I was a small, skinny fellow - eight and a half stone, looking much much younger than my years, trying to fight off a violent sexual predator.
"I was extremely private about myself and these violations literally blew my mind and to survive them I blocked them out."
Fr McCafferty, who had previously suffered abuse at the hands of a babysitter, said he had felt no sense of victory after Donaghy was sentenced on Friday.
"There's deep sadness and I believe justice was done and a just sentence has been served," he said.
"What I hope for now is a new day, a new dawn. I will not be defined by this. I am far more than this.
"I can't change the story of what I've come through, I can't change my history."