Northern Ireland's business angels who act like dragons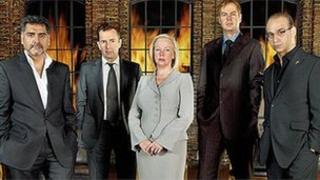 The BBC's Dragons' Den puts entrepreneurs under pressure. But it is worth it for the chance to gain a substantial investment and an experienced business mentor.
At the Northern Ireland Science Park in Belfast, small companies with big ideas regularly meet investors with money.
Pitches are made over dinner and drinks at events organised by the Halo Business Angel Network.
"We're like a Dragons' Den," said manager Richard Ferguson.
"We essentially help small businesses trying to get established and who need need funding to find that from some high net worth investors."
Richard explained that the downturn in the property market means that investors are searching for different types of opportunities. The Halo Network has helped companies to lever more than £3m worth of investment in the past year.
Among the hopefuls attending this week's event was Grainne Kelly, the founder of Bubblebum UK Ltd.
She invented an inflatable car seat for children which is now selling in 24 countries.
"Up to now, we've funded the business ourselves, by being very careful," said Grainne.
"We haven't used bank loans. But now we're at the stage where we need investment to expand and we're exploring a number of options for funding."
Two well-known faces were spotted at the dinner: Belfast playwrights Marie Jones and Martin Lynch.
They previously secured £75,000 from "angel" investors to fund a film version of Marie's award-winning play, Stones in his Pockets.
They need more to get the project off the ground, so Marie was preparing for another pitch.
"We're very optimistic. When Terry George pitched at a similar event he raised investment for his movie, The Shore, and it's now nominated for an Oscar, so it could be seen as good for investors, if they're prepared to take a chance."
Aaron Taylor's company, Gogamingo, develops specialist software for the fast-growing and lucrative computer gaming industry.
His latest product allows players to compete against each other to win prizes. It is estimated that the worldwide computer gaming sector will be worth £15bn by 2015, so it is easy to understand why Aaron is keen to get his company established. He has raised private finance in Dublin, the United States and Belfast following difficulties with the banks in Northern Ireland.
"We've been dealing with two pretty well known banks in Northern Ireland and have been declined for bank accounts. Both times we went in with £20,000 in cash to put into an account and were turned down," he said.
"I think if banks are going to judge business start-ups the same way they judge developed companies, then there is never going to be a benefit in that for small start-ups."
It is standard practice for film companies and technology entrepreneurs to raise funding from private investors. But it seems that businesses in all sectors are increasingly turning to investment funds and venture capitalists in their search for capital. This, they say, is because banks are simply not prepared to lend.
This week, Northern Bank reported hefty pre-tax losses of more than £210m, double the losses of 2010. Business lending fell by 11%. The bank says this is partly because firms are more focussed on paying off loans, and not because the bank is refusing to lend.
In a recent report, the Department of Enterprise asked local small to medium sized companies (SMEs) - that's firms with up to 250 staff - about their experiences with banks. In 2007, 92% of companies successfully negotiated a bank loan. This dropped by a third in 2010. And for "micro-businesses", those with less than ten employees, the success rate was halved, from 89% down to 45%.
The British Bankers' Association insists that banks are open for business and are continuing to lend through the recession. But spokesman Brian Mairs said fewer companies were asking for loans.
"There's a lot of negativity and there's a crisis of confidence in the global financial system, it's not limited to Northern Ireland. It's the responsibility of banks to give businesses the confidence to invest in their own futures, simply to apply for loans in the first place.
"That means that we have to go the extra mile and work somewhat harder to actually get people in through the door."
Lending
Banking analysts say that during the property boom in the last decade, businesses in Northern Ireland were far more likely than their counterparts in Great Britain to take on cheap bank loans for property speculation.
This means that some companies are saddled with toxic debts, even though their core business is sound. The idea is being floated in political and banking circles that a NAMA-style "bad bank" - similar to the model established in the Republic of Ireland - could be set up to remove these debts in the hope that this might free up bank lending once again.
Mr Mairs said the idea had some merit.
He said:"When banks open companies' books they will be looking at what sort of debt those businesses have and whether those debts can be offloaded elsewhere or can be constructed elsewhere where they can be paid off in a measured way. That is certainly something that will be attractive to a lender."
Finance Minister Sammy Wilson has discussed the issue of bank lending - or the reported lack of it - with representatives from the main banks, as well as the Governor of the Bank of England and the Chancellor George Osborne.
Businesses say his appeals for increased lending are falling on deaf ears and that the banks are more interested in rebuilding their balance sheets than lending to firms.
Aaron Taylor of Gogamingo said business owners needed to see action on lending.
He said:"You could almost make it into a political football and beat the bankers to death on this. But I think we need to sit down and say what can we do to actually drive this forward and open it up to small businesses and give them the ability to get finance and grow the business."
The Sunday Politics is on BBC1 at 12:00 GMT.