Northern Ireland Nama initiative discussed with Treasury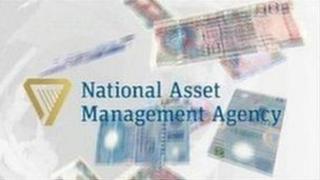 The Finance Minister Sammy Wilson has confirmed he has discussed ways of tackling toxic debt in a Nama style initiative with the Treasury.
Mr Wilson told Sunday Politics he had raised the issue with the governor of the Bank of England, Mervyn King.
The British Bankers' Association ((BBA) said such a move could inspire confidence in the banking sector.
Nama bought out the toxic debt left in Irish banks after the property crash.
Research by the Department of Enterprise shows that bank lending to small and medium sized companies has fallen considerably since 2007.
Asked about whether there should be a Nama style bad bank in Northern Ireland, Mr Wilson said he was working on ways of tackling the problem.
"We need to find some way of divorcing those property loans which many businesses foolishly got involved in during the boom, from core businesses," he said.
"I've discussed this with Mervyn King, the governor of the Bank of England, and it's an initiative which would have to be done at a national level."
Financial crisis
Brian Mairs of the BBA said a local arrangement, similar to Nama, could improve the current situation.
"When a bank is looking at lending to a business, they will ask fairly intrusive questions - more intrusive perhaps than would have been expected before the credit crunch, before the global financial crisis," he said.
"They'll be opening the books, they'll be looking at what type of debts the businesses have and if those debts can be offloaded elsewhere or can be constructed elsewhere, be paid off on a measured basis then that would be something that would be attractive to a lender."
Nama was set up by the Irish government as part of the response to the country's banking and property crisis.
Its job is to buy and then manage property loans which had been made by the Dublin-based banks.
The main reason given for setting up Nama is that it would take an enormous weight of bad loans from the banks and allow them to increase lending to viable businesses.
However, there is scant evidence that the banks have responded by lending more.
The creation of Nama was also not enough to stop all but one of the Irish banks being nationalised.
In Northern Ireland, Nama has taken over loans with an original value of about £3.5bn.
Other banks which are not part of the Nama process are also dealing with the legacy of a property lending binge, chiefly Ulster Bank, Northern Bank and Bank of Scotland Ireland (BoSI).
Each of these banks have dealt with the problems in their own ways.
BoSI has been shut down by its parent company, Lloyds, and its loan book is being run down by Certus, an asset management firm.
Ulster Bank has created an 'internal Nama' called the Global Restructuring Group to deal with bad loans.