Armed men threaten ambulance crew in Fountain Hill, Antrim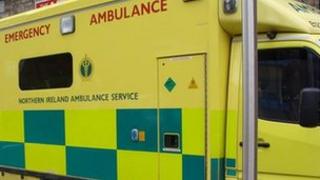 An ambulance crew in Antrim has been forced to leave the scene of an emergency call-out after being threatened by two men with steel bars.
It happened at Fountain Hill in the town in the early hours of Saturday.
The crew were approaching a man who seemed to have collapsed when they noticed two men running towards them in a threatening manner.
The crew members - a man and a woman - were forced to return to their vehicles after being threatened.
This was despite the fact they had identified themselves as ambulance personnel.
The crew contacted the police and returned to treat the patient as soon as officers arrived.
The patient was then taken to Antrim Area Hospital for treatment for abdominal pain.
In a statement, the Northern Ireland Ambulance Service said: "While NIAS does not believe that the crew were targeted in a premeditated manner, we find it totally unacceptable that ambulance staff should be placed in a position where they have to run, from a patient needing help, to the relative safety of their vehicle in order to maintain their own safety."