Thousands of households hit by benefit cap claim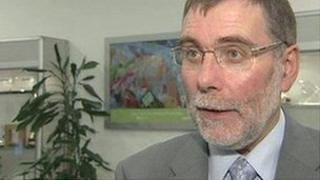 Thousands of households in NI may be affected by the government's plans for a £26,000 annual limit on total household benefits, including child benefit.
The figures were revealed in a written answer from the Social Development Minister Nelson McCausland to the Ulster Unionist MLA Michael Copeland.
There are around 340,000 households which receive social security benefits.
More than 99% receive less that £500 per week.
Mr Copeland said that this meant that over 3,000 households could be affected by the proposed benefits cap, but Mr McCausland said that the actual figure was likely to be very small.
The minister said that the Department of Social Development was not yet in a position to give a precise figure on the number of households affected.
"The early estimates that we have indicate that only a small number of people in Northern Ireland will be affected by the proposed benefits cap," he said.
"There is now going to be more detailed work to get much more accurate figures."
The DUP MP Ian Paisley had previously claimed that only one resident in Northern Ireland was receiving more than £26,000 in benefits.
The cap is set at the equivalent to the average post-tax salary of a working household.