Phoenix supply gas across border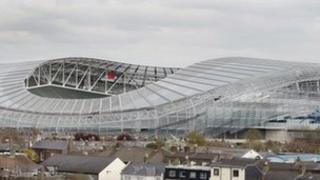 Phoenix Gas, the first company to provide natural gas in Northern Ireland, has now ventured south of the border.
Among their clients in the Irish Republic are the Aviva Stadium, the Merrion Hotels group, Druids Glen resort, O'Neills GAA sportswear manufacturer, Batchellors food, and Brennans Bread.
They now supply to 23% of the largest industrial companies in the Republic.
In Northern Ireland, Phoenix manage the physical network infrastructure, and are one of a number of gas suppliers.
In the Republic, they just supply and have been able to divert gas, without having to pay big overheads to set up another business structure.
With linked energy markets, the usual flow is for companies from the Republic to begin taking contracts in Northern Ireland.
Phoenix Gas is one of the first companies from Northern Ireland to try and crack the Republic's energy market.
David Strahan, managing director of Phoenix Energy, said other companies should focus on export growth too as "that's where the recovery will come from in Northern Ireland".
Hear the full interview on the NI Business News Podcast.