Child boxers' bus burnt out in Londonderry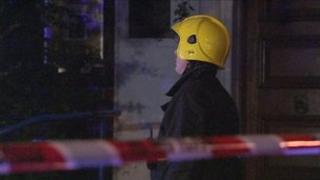 Children from Belfast were left stranded in Londonderry at the weekend after the mini-bus they travelled in was burnt out.
The bus was set alight in the early hours of Sunday morning as the children took part in a boxing tournament at the Bogside Community Centre.
Fourteen people, including six children, connected with the Dockers Boxing Club had come on the bus.
They had to travel back to Belfast in taxis at a cost of £75 per car.
Firefighters brought the blaze under control but the PSNI did not attend the incident because they had been attacked earlier in the evening by a crowd of youths and feared a similar situation arising.
The mini-bus was on loan from a group from the Short Strand area of Belfast.
The children, parents and coaches had no idea the bus was attacked while they were taking part in the cross-community boxing tournament.
Paddy Fitzsimons, a coach at the Dockers Boxing Club, told Talkback he was disappointed with the police response.
"I phoned for the fire brigade and the fire brigade came and put it out," he said.
"We phoned the police and the response was 'we don't go into that area' and we were left standing there for hours.
"We had to order a taxi home. It was paid for by the Boxing Board of Derry. There was no youths when we went outside, there was no trouble.
"In fact, later on there was an unmarked police car that came past us and they never stopped and just kept on driving away.
"They ( their Derry hosts) were shocked. They wanted to put us up in the City Hotel or even in their houses.
"They were more than helpful, they couldn't get over it. It's never happened before in boxing."
In a statement the PSNI explained why the decision not to attend the scene of the fire was taken.
"Police were contacted by NIFRS regarding this incident. However, due to an earlier petrol bombing attack against police and reports of youths gathering in the area ground crews did not attend.
"The police helicopter was tasked to give an overview and police attended the area on Sunday morning at first light."