Ireland rugby star Stephen Ferris bound over to keep peace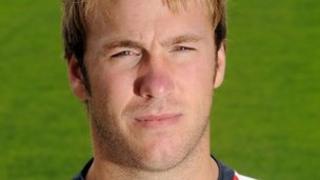 Ireland and Ulster rugby star Stephen Ferris has agreed to be "bound over to keep the peace" over charges of assaulting two men.
The charges against Ferris, of Chestnut Hall Avenue, Moira, have been "left on the books" by Belfast Crown Court.
Ferris, 25, had been charged with causing actual bodily harm to Colm Conlon and one of common assault on James McGinley on 27 September 2009.
The British Lion's older brother had pleaded guilty to assault.
Prosecuting lawyer Peter Magill asked for the charges against Stephen Ferris to be "left on the books, not to be proceeded with without the leave of the Crown Court or the Court of Appeal," an application granted by Judge Tom Burgess.
Defence QC Liam McCollum said the rugby international was "obviously very sorry for what happened that night."
At an earlier court hearing, David Ferris, 28, with the same address at Chestnut Hall Avenue in Moira, pleaded guilty to causing Mr Conlon actual bodily harm on the same date.
In granting the binding order, Judge Burgess said it was a "sensible way forward" as having read the papers it was clear to him that David Ferris "instigated everything that happened".
The judge also set next Thursday for the plea and sentence of David Ferris.