Sir Alex Ferguson sends support to workers at Cork sit-in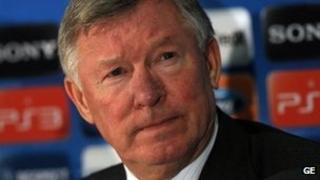 Manchester United FC manager Sir Alex Ferguson has sent a message of support to former Vita Cortex workers in Cork.
Some 32 former workers at the Cork plant are in the 60th day of a sit-in because of a row over redundancy payments.
The Irish State has stepped in to pay statutory entitlements, but the company has claimed inability to pay another 372,000 euros.
Former Vita Cortex lorry driver Jim Power, who spoke to Sir Alex Ferguson, described the phonecall as a "massive boost".
"He spoke about his involvment in an apprentice boys' strike in Glasgow in 1961 and told us to 'stick in there," he said.
"I'm a Manchester United supporter so I'm delighted but everyone here, even the Liverpool FC guys, are saying 'fair play'."
Up to 5,000 people attended a march in Cork organised in support of Vita Cortex workers over the weekend, in one of the biggest public demonstrations the city has seen in recent years.