Report's warning on flight links to Heathrow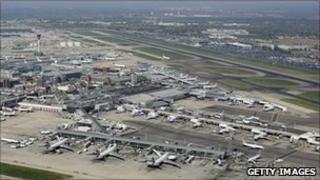 An economic forecasting consultancy has warned Northern Ireland is in danger of being cut off from future trade and job opportunities unless flight connections are improved.
It follows research from analysts Oxford Economics.
They are due to release a report on Tuesday to around 50 leading NI businesses.
It says regular flights, particularly to Heathrow, are important for the economy.
Oxford Economics claim that capital expenditure at Heathrow brought in £13.3m for Northern Ireland suppliers in 2010.
There had been speculation that some flights between Belfast and Heathrow were under threat following the sale of BMI to the International Airlines Group (IAG).
IAG agreed to buy BMI from Lufthansa for £172.5m in December 2011.
However, IAG chief executive Willie Walsh confirmed that Belfast to Heathrow flights would continue despite the sale.
The Ulster Unionist peer Lord Empey has also introduced a bill in the House of Lords which aims to force the government to give power to the Civil Aviation Authority to ring-fence slots at Heathrow for regional flights.
The Airports (amendment) Bill 2011 would provide for the protection of air services between Heathrow and the UK regions.