Call centre firm HCL BPO to cut 255 jobs in Belfast and Armagh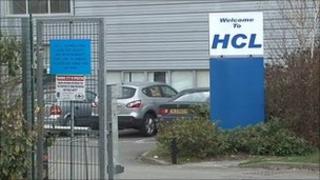 More than 250 workers at one of Northern Ireland's biggest call centre companies are set to lose their jobs.
HCL BPO Services employs 800 people in operations in Belfast and Armagh - 425 staff have been put on 90-day notice.
The company is hoping to save around 170 of those jobs, meaning 255 people are likely to face redundancy.
The Armagh operation, which employs 170, is closing. Armagh mayor Freda Donnelly called the news a "body blow" for the area.
"Coupled with the 36 job losses in Markethill with Unicorn Plastics, and we're still reeling from the loss of the 50 jobs last week with Zwecker Haulage," she said.
"My heart goes out to those workers, while that's cold comfort to them.
"But can I assure them that Armagh City and District Council are totally committed in supporting and lobbying for fresh jobs to come to Armagh.
"Armagh is open for business."
On Monday, Unicorn Mouldings announced that 36 of its 58 employees would be made redundant in the next six to eight weeks.
On 3 February, Noel Zwecker International Transport, based near Armagh, said it was to close with the loss of 50 jobs.
Committed
All HCL BPO operations are to be switched to Belfast.
The Indian owned company, which has had operations here since 2002, said it remained committed to Northern Ireland for the long term.
Anita Barnard, general manager, HCL BPO Services said: "As a responsible employer, we are committed to retaining and retraining as many of the affected employees as possible and during the consultation period we will engage with each employee affected to look at ways we can assist them gain alternative employment within and outside HCL BPO."
The company said its work for clients would continue as normal but it would, as a matter of course, be keeping all its clients informed of its proposals.
Enterprise Minister Arlene Foster said it was "a dreadful blow" to those affected and her thoughts were with them and their families.
"It is a worrying time for everyone and whilst I appreciate the headline figures are shocking, I am somewhat encouraged by the commitment of HCL to try and redeploy 40% of those affected, thereby mitigating the impact of today's announcement," she added.
Last year, more than 1,200 workers at the company were told to accept less favourable terms and conditions or lose their jobs.