Northern Ireland-wide taxi fare rise proposed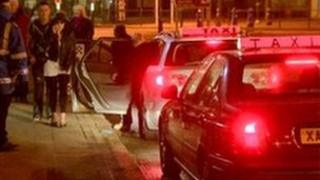 Taxi customers across Northern Ireland face paying increased fares at nights and weekends under new proposals from the Department of the Environment (DOE).
The department wants to ensure standard taxi fares for all taxis.
Under the proposals all taxis would charge a basic fare of £3 from 6am to 8pm from Monday to Friday.
However, fares would rise to £3.40 during week nights and £4.20 from 8pm on Friday to 6am on Monday.
Most taxi companies charge flag-drop tariffs - the fare showing on the meter at the beginning of the journey - of £3 at present, so the new weekend fare represents a 40% increase on that fare.
The department wants to apply standard Northern Ireland-wide taxi fares for all taxis, whether they are public or private hire.
Their aim is to provide protection from overcharging, and they have said that a driver and customer will be able to negotiate a reduction in the proposed fare prior to the taxi journey.
The additional weekend charge is due to a proposed "unsociable hours premium" which the DOE hopes will encourage a supply of taxis outside normal working hours.
Clarity
The new plans would also require all taxis to carry a meter which would be set to the new tariffs.
In addition to the new basic fares, customers would pay 20p for every 224 yards (204m) the taxi travels and 20p for every 73 seconds the taxi is stationary.
Currently, Belfast public hire taxis charge 20p for every 270 yards.
Additional charges are also proposed for passengers travelling in groups of more than four.
In a statement, the Consumer Council said that the new proposals would bring clarity on taxi fares.
"This will help to reduce instances of overcharging for passengers and provide printed receipts which will assist passengers where they have a complaint regarding the level of fare charged.
"Charging above the maximum fare level indicated on the meter will be an offence, with offenders facing a fine of up £1,000 under the current proposals."
The plans are currently out for consultation to taxi operators, drivers and consumers.
The consultation period ends on 17 February.