£800k crime assets fund projects in Northern Ireland - David Ford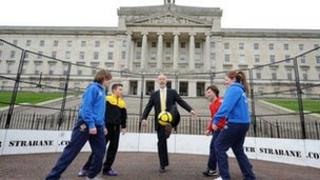 Almost £800,000 of assets seized from criminals in Northern Ireland is to be allocated to community projects to help fight crime.
Announcing the funding, Justice Minister David Ford said it followed an agreement with the Home Office.
Previously the Home Office retained 50% of all criminal assets recovered.
However, under the new agreement half of assets seized in NI will be used here, with the other half going to assets recovery agencies.
"I have lobbied to ensure this extra money remains in Northern Ireland and is targeted at preventing crime and the fear of crime," Mr Ford said.
"Obviously it is difficult to predict the level of funding that will be available in the future given changes year to year of assets recovered, but I am optimistic that there will be a general increase in funding in coming years.
"Recovering criminal assets is an important focus of the Organised Crime Task Force's work and to reinvest those ill-gotten gains back into the community helps tackle crime and the fear of crime."
At Parliament Buildings on Tuesday Mr Ford announced the first tranche of funding.
Among the projects to benefit are programmes to reduce anti-social behaviour, support for older people and victims of domestic violence as well as initiatives to prevent rural crime and to educate young people about the dangers of drugs and alcohol.
One project singled out by Mr Ford is a cage soccer programme - a mobile arena that can be transported and deployed where wanted - developed by Strabane Community Safety Partnership (CSP).