Stephen Carroll trial: Army 'reluctant to hand over device'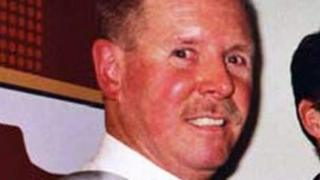 The Constable Stephen Carroll murder trial has heard a specialist Army unit was reluctant to hand over vital surveillance information to police.
Constable Carroll was shot dead in Craigavon in March 2009.
An under cover military unit had placed a tracking device on the car of one of the accused, John Paul Wootton.
On Tuesday, a police inspector revealed that the Army only gave the device to detectives when the threat of a warrant being obtained was put to them.
The officer, Det Ch Insp Harkness, said that he had never before dealt with such a device and that no such tracker had ever been used in evidence in the UK before.
The prosecution contends that the device reveals that Mr Wootton's car was used to transport Constable Carroll's killers to and from the murder scene.
Mr Wootton, 20, of Collindale, Lurgan and Brendan McConville, 40, of Glenholme Avenue, Craigavon, both deny murdering Constable Carroll.
Mr Wootton's 48-year-old mother Sharon, of the same address, denies perverting the course of justice.
Earlier, a witness told the trial Mr Wootton's car was parked close to where the gunman fired from.
Witness K, a navigation specialist engineer who gave evidence from behind a screen, said the tracking device showed the car's location.
Witness K said he examined data from a GPS tracking device which the Army had hidden on Mr Wootton's car.
He said he had examined more than 150 location fixes from the device and at the time of the murder the car was stationary on the Drumbeg estate, which is close to the murder scene.
He also said the data revealed that 20 minutes after the shooting the car was near Mr McConville's home.