Stormont report highlights missed health targets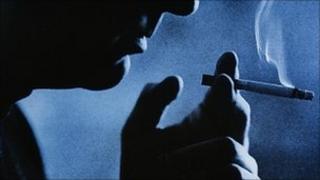 A Stormont report has found that the previous executive achieved less than a third of its targets (31%) in promoting health and addressing health inequalities.
Health targets which were not met included reducing the number of smokers to 21% of the adult population.
The report said it also did not halt the rise in obesity or cut suicide rates by 15%.
Only 40% of the previous executive's targets were "fully completed".
The report was compiled by the first and deputy first ministers' economic policy unit and the finance department's performance and efficiency delivery unit.
It assessed 400 targets included in the Programme for Government (PfG) from April 2008 to March 2011.
Out of these, 268 were judged to have been achieved or on course to be achieved.
However, the report notes that "full completion" had only been achieved in 40% (161) of the targets.
This meant that a total of 132 targets were either progressing more slowly than planned, or not expected to be achieved.
Deteriorated
Of the key goals and commitments in the PfG, those which came under the headings 'Invest to build our infrastructure' and 'Deliver modern high quality public services' had the lowest completion rate.
However, the report said that delivery of other targets in two key areas had also "deteriorated".
In 'Promoting health and addressing health inequalities' just over 68% of targets were unmet, while in 'Deliver high quality health and social services' over 52% of targets were not achieved.
In some areas, like promoting safer roads or flood management, the executive achieved all its targets.
Speaking to Good Morning Ulster, East Belfast Alliance MLA Chris Lyttle said he felt the report was buried amongst positive news on Tuesday.
"We had some fantastic news yesterday in the terms of the millions of pounds in roads and hospitals," he said.
"We had public statements in the assembly about it and news conferences. Unfortunately underneath that news we also had another important report which assesses delivery of the executive over the last three years against key targets.
"In my opinion that should also have had a public statement in the assembly to allow the assembly to assess how well the executive has done.
"The assembly, the relevant committees, deserved more time to scrutinise this report. It's a crucial report."