CastleCourt shopping centre in Belfast sold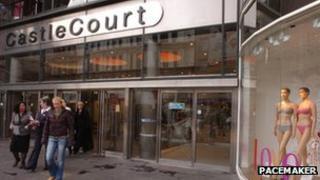 The CastleCourt shopping centre in Belfast has been sold.
The Hermes real estate, which already had a two-thirds share in the centre, has taken full control in a deal with the Australian firm Westfield.
Hermes has paid a reported £400m to buy Westfield's interest in Castle Court and two other shopping centres in England.
CastleCourt was Belfast's first major shopping centre and earns about £13m a year in rental payments.
Before the Northern Ireland property crash the 350,000 sq ft centre was valued at around £350m.
It is now thought to be worth less than half that.
Westfield has agreed to sell its interest in three non-core smaller centres in the UK.
The sale of its interests in Belfast (33%), Guildford (50%) and Tunbridge Wells (33%) will result in gross proceeds of £159m, in line with prior book value, and net proceeds of £107m.
Westfield Group co-chief executive Steven Lowy said: "These assets were originally purchased in 2000, at the time of our initial entry into the UK.
"Since that time we have refocused our business into iconic assets such as Westfield London and Stratford City and we continue to examine new growth opportunities in the UK.
"Along with the recent sale of Nottingham, these assets divested today became non-core to our UK portfolio."