Longer jail term for Belfast armed robbery 'team' sought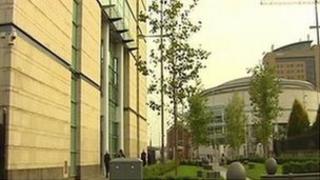 A two-man armed robbery "team" jailed for a total of 16 years were given unduly lenient sentences, the Court of Appeal has heard.
Senior judges were urged to increase prison terms imposed on Michael Nolan and Patrick Shannon.
They carried out a series of raids across Northern Ireland.
Counsel for the DPP argued that tougher sentences were merited due to the level of planning, premeditation, and use of weapons and violence.
The pair jointly carried out two raids, while Nolan was also charged with a robbery where £85,000 was stolen but only £30,000 recovered.
Gerry Simpson QC said: "The offences were carried out in public, putting members of the public in fear."
Nolan, 34, from University Street in Belfast, was jailed for nine years last November after pleading guilty to five robberies and two attempted robberies.
Shannon, 39, from Velsheda Court in the city, admitted two robberies and received a seven-year sentence.
At the time the pair were described in Belfast Crown Court as "constituting a robbery team".
Chase
In one of the raids both men carried out in 2008, a cash delivery guard was threatened at gunpoint as he took a money box from Iceland on Belfast's York Road.
Staff who tried to intervene were threatened with being shot and the pair got away with £15,000, but were later identified from DNA profiles.
Later the same year they targeted a guard taking cash to an ATM at the Abbeycentre in Newtownabbey, but the stolen box was empty.
Nolan was convicted of further robberies at Homebase at Upper Galwally, two Lidl supermarkets in Ballymoney and Magherafelt, and a JJB outlet in Belfast.
After the Magherafelt raid in 2010 police chased him through Draperstown, Maghera and Tobermore. He was driving a stolen car.
Mr Simpson also argued that little credit should be given for the guilty pleas.
"Taking Nolan, these could not be regarded as admissions at the earliest possible stage," he told the court.
"He was interviewed over a period of time and did not make any admissions.
"It was not until late in the day when the trial had been fixed that Nolan pleaded guilty."
The three-judge panel who heard the appeal reserved their decision.