East Belfast man Andrew Mundy could face rape retrial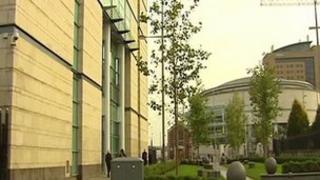 An east Belfast teenager faces a potential retrial after a jury failed to reach a verdict on a rape charge.
On Tuesday Andrew Mundy, 19, of Irwin Crescent, was convicted of sexually assaulting a 19-year-old woman on 9 September, 2009.
The Belfast Crown Court jury of six men and six women deliberated for five hours over two days before telling the judge they were "hopelessly split".
They said they could not decide whether Mundy had raped the girl.
Releasing Mundy on continuing bail, Judge Patrick Lynch listed the case for mention next Wednesday when the prosecution will say whether there will be a retrial on the outstanding count of rape or not.
During the week-long hearing, Mundy's victim told the court how she talked to him through an internet chat room before meeting him for the first time on two days before the attack when they walked around Victoria Park in the east of the city.
At that time, Mundy told her: "I bring people in here and rape them" but later said it was just a joke.
Two days later however the jury heard she met Mundy again and this time, he sexually assaulted her by touching her inappropriately before having sex with her.
She alleged Mundy then raped her but giving evidence on his own behalf, Mundy claimed the teenager consented to sex.