Sports stars back rail campaign to tackle suicide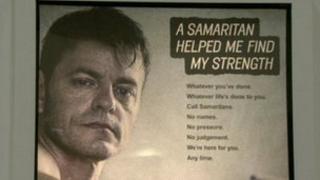 A hard-hitting campaign to tackle suicide on the rail network in Northern Ireland is due to be launched at Belfast's Central Station later.
A full-size boxing ring has been built in the main waiting area as part of the campaign by the Samaritans and Translink.
In the last three years, there have been five suicides and 19 attempted suicides on Northern Ireland railways.
The campaign has received support from local sporting personalities.
The "We're in Your Corner" campaign, in particular, targets men, who are said to be three times more likely to take their own lives than women.
Boxer Cathal McMonagle said Samaritans were there for people who did not feel comfortable talking to a friend or relative.
"It doesn't matter how big or tough we are, we all suffer our own heartaches and troubles in life, big or small," he said.
"It's not a sign of weakness to talk about your problems, in fact it takes a bigger man to admit he has a problem and ask for help."
About 100 Translink rail employees have attended Samaritans training.
The partnership provides support for Translink employees who find themselves dealing with someone in distress.
Catherine Mason of Translink said: "Suicide prevention and post incident care are extremely sensitive issues that we want to address in the most effective and responsible ways possible.
"Samaritans provide confidential emotional support services 24/7, working to alleviate emotional distress and promote emotional wellbeing.
"We recognise the immense value of this new partnership in providing support for both our employees and the general public."
Suzanne Costello, Director of Ireland Samaritans, said: "We know that men remain a high-risk group and we believe that they don't feel able to talk about their problems.
"These can spiral out of control, sometimes with tragic consequences. Talking to someone is better than bottling things up and we hope that the poster campaign will prompt more people to seek support. "
Translink has also launched a station poster campaign across the rail network to highlight the Samaritans' support available for anyone in distress.
The Samaritans can be contacted by calling 08457 90 90 90