Economic output 'will stay flat', says Northern Bank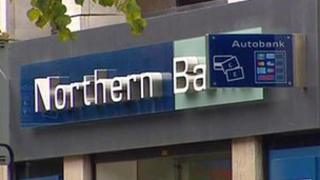 The Northern Bank is predicting economic output will remain largely flat this year.
Its latest quarterly forecast also warns that the chances of the Northern Ireland economy slipping back into a technical recession have increased, but said any contraction should be small and short-lived.
The bank's chief economist, Angela McGowan, has pointed to a general improvement in global economic conditions.
However, she said manufacturing exports could be affected by the eurozone crisis.
"At this moment the largest threat to the economic environment is the ongoing eurozone crisis which has the potential to upset financial markets and depress investor confidence," she said.
"There is no doubt the impact of such a scenario would be felt locally and would impact all local sectors."
She said, however, there were positive influences working to support the economy.
These ranged from the general improvement in global economic conditions to improvements closer to home in terms of falling inflation and improved consumer confidence.
The latest report forecasts that business will remain subdued for all sectors in Northern Ireland, with no sector experiencing growth above 2% over the year.
The best performers will be those sectors which have an international focus, such as manufacturing, agriculture and tourism.