Ahoghill young farmers restart as agriculture picks up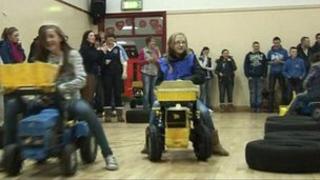 The latest unemployment figures underline why many young people are being forced to look abroad for work.
The unemployment rate in Northern Ireland currently stands at 7.2%.
But while emigration is a real issue, an upturn in farm incomes is breathing new life into some rural communities.
Ahoghill in County Antrim is one area where there is a new sense of optimism which is evidenced by the rebirth of the local young farmers club.
Every Thursday evening in the local school hall the laughter and excitement of more than 100 young people spills out across the village of Gracehill.
Inside the young farmers are competing in groups of eight pedalling toy tractors around at high speed.
Packed around the perimeter of the hall the teams cheer their drivers on and if the noise level is anything to gauge by, the tractor Olympics is high octane entertainment.
Club member Richard McKeown explains that this evening the neighbouring young farmers club of Kells and Conor has joined Ahoghill for an evening of fun and games.
But young people need more than a busy social life to help secure their future in a rural community.
Jobs are a key component of any successful community and in Ahoghill the upswing in farming fortunes could not have come at a better time.
With the building trade still in recession, the 27% increase in farm incomes last year point to agriculture as the brightest star in the local economy.
And for young farmers club members like Stewart Gillespie it means their future is here at home working the family farm.
Mr Gillespie says he really enjoyed the time he spent in New Zealand where he worked on seven different farms.
But now he is home to stay and shares milking duties with his dad on the family's dairy farm.
Young farmers club leader Craig Hamilton and secretary Lucy Hurrell also see their futures here in the area where they have grown up.
Nineteen-year-old Craig is involved in his family's beef farm while Lucy uses any spare time from a final year course at Greenmount campus to milk cows on a local farm.
The mood is summed up by 17-year-old Adam McKeown who is also hoping for a career in agriculture: "I've grown up, and have a feeling for this part of the country, I don't want to move away."
Perhaps because the club faded out in the past, those involved with the newly reformed Ahoghill young farmers are particularly conscious of how important a sense of community is.
The Ahoghill experience proves that a community is really about its young people.
Looking around the smiling faces at the tractor Olympics its clear that given hope for a decent living, home is where Ahoghill young farmers want to be.