Two women charged with Belfast prostitution offences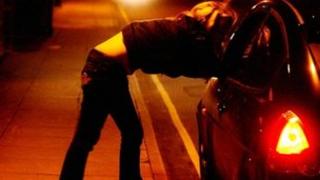 Two women have appeared in court in Belfast following a major police investigation into alleged prostitution and human trafficking.
Nicole Preisner, 35, with an address at Holywood Road, and Angelika Schneider, 43, of College Central Apartments - both in Belfast - are jointly charged with controlling prostitution and brothel keeping.
The pair are from Germany and Austria.
They were detained during searches carried out across the city last month.
Ms Schneider faces a further count of possessing criminal property, namely money.
A detective involved in the investigation told Belfast Magistrates' Court he could connect both women to the alleged offences.
Defence lawyer Hamill Clawson, representing the Austrian defendant Ms Schneider, stressed that she gave a full account during police interviews.
Mr Clawson also pointed out that the allegations against his client only cover a period of one week.
Neither woman has been charged with any trafficking offences.
District Judge George Conner agreed to grant continuing bail to both accused.
They are due to appear again before the court in eight weeks time.