Syria in the Arab winter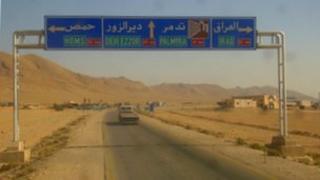 Syria is currently the focus of the international media, as deadly clashes continue between rebels and government security forces. BBC Northern Ireland reporter Chris Page spent time in the country two years ago.
It was Arabia at its most authentic. A country of swirling scents and sultry souqs. And, at face value, a stable nation which felt safer than anywhere in the West.
Part of the reason I visited Syria was that it was a place which did not get much attention in the Western media. Two years after my visit, it is dominating the international headlines in a way which was difficult to imagine.
Syria stood out from the other Middle Eastern countries I have travelled to - the economy was growing steadily, the infrastructure was improving, and people appeared to be content.
The consensus among the group I travelled with was that if there was a country where a "benevolent" dictatorship might work, maybe this was it.
However, the last few months have shown that the veneer of content among the people did not tell the whole story.
There was one aspect of the trip which, in retrospect, pointed towards a deeper truth. Our tour guide Abdul challenged us about the Western way of doing government.
"What is so good about democracy?" he asked us one night, over a waterpipe and felafel.
"Why do you change your prime minister? You don't know who you will get next."
Democracy, he argued, led to perpetual chaos in countries like ours - which would inevitably cause widespread woes, like the financial crisis which was the top global news story at the time.
"The best thing is to let our president make decisions for us," Abdul said.
"We have known him since he was a boy." (President Bashar al-Assad inherited the presidency from his father, Hafez al-Assad, who ruled Syria for three decades).
"Your country calls our President a dictator. But to us, he is like a Father," he explained.
"Good children do not challenge what their father wants to do. They do not question their father. Instead, they obey him because they know that is what is best for them."
Abdul plainly believed what he was telling us about the dictatorship.
'Blissfully positive'
He also almost certainly believed the government's version of events about the massacre in Hama in 1982. It's unclear how many died when the Syrian army crushed a revolt in the city, but the lower estimates put the number at around ten thousand.
Anticipating a question about the massacre during our stay in Hama, Abdul said the number of deaths had been "exaggerated". According to Abdul, it was important to remember these were "bad people", who tried to destabilise the country.
Syria, he said, was a place where different factions had to live together - if the government were not strong, there would be civil war. He likened what had happened in Northern Ireland to what could happen in Syria.
He was an authorised guide. And in Assad's Syria, it is unlikely anyone granted a government license would give anything other than a blissfully positive picture of the regime. Or show us anything which would have given a hint of the discontent which must have been there.
The Syrians we met could not have been more hospitable. Everywhere we went - from the pleasant capital Damascus, to the majestic ancient ruins of Palmyra, to the bustle of Aleppo - they were keen to chat.
Dozens of times, children scurried towards us in the shopping streets. Our initial inclination was to brace ourselves for a request to buy something from their family shop.
However, it soon became clear that they were simply keen to practice their English and shake our hands - they did not see foreigners very often.
As I have watched the images of the violence over the last few days, I have often wondered what those children have been permitted to know about what is happening in their country - and whether Syria's future will be settled by people with guns.