Matt Baggott defends rehiring of former RUC officers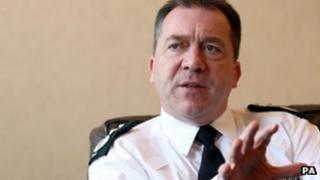 Chief Constable Matt Baggott has defended the PSNI's practice of employing temporary staff, including former members of the RUC.
The chief constable was making his first ever appearance before the Stormont justice committee.
The PSNI currently uses the services of more than 300 former RUC officers on temporary contracts.
Sinn Fein MLAs raised concerns about the accountability of the former RUC officers.
The party's Raymond McCartney said that retired staff were not accountable to the police ombudsman and this had affected public confidence in the police.
He said there was "a history of retired RUC men refusing to co-operate with the ombudsman".
Mr Baggott said he understood how controversial the matter of agency staff was.
£135m savings
The chief constable said there were plans in place to further reduce the number of associate staff, and stressed the role of temporary staff in bringing about £135m in savings.
He said that if employment law needed to change then it could change, but it was not for him to change the legislation.
In reply to a question from the DUP's Jim Wells, the chief constable said that if there was evidence of a lack of integrity the associate staff "would not be working for the PSNI, and if there were criminal matters they would be investigated".
The SDLP's Colum Eastwood said the problem was that former members of the RUC had been actively sought out to do the work.
Committee chair Paul Givan wanted to know if the police Historical Enquiries Team would have completed its work when its funding ceased in 2012 - 2013.
"No, it won't," the chief constable replied.
He said the police needed around two years of funding, or £6m, to cover the remaining historial cases.
On the subject of police station closures, the chief constable said there would be more closures but these would be carried out in a sensitive and realistic manner.
"We have twice as many here as in a comparable area in the rest of the UK," Mr Baggott added.