Titanic £5 commemorative coin released by Royal Mint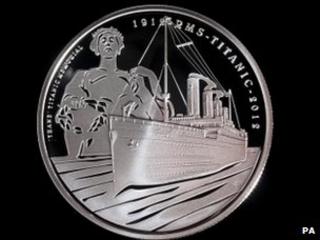 The Royal Mint has released a £5 coin to mark the centenary of the Titanic's doomed maiden voyage in 1912.
The design shows Thane, the female figure depicted in the Titanic Memorial in Belfast, looking down at the ship sailing through the Atlantic Ocean.
The commemorative coin is legal tender but will not be issued into circulation.
It was designed by Royal Mint engraver Lee Robert Jones, who says the symbolism depicts the tragedy's scale.
"My design is concerned with the spectacle for the ship and her story," he said.
"Thane, the goddess of death, is to reflect the significance of the event - she symbolises respect and sorrow for the loss that occurred."
The Titanic sank on 14 April 1912 after hitting an iceberg, with the loss of 1,517 lives.