Alfredo Fusco killer appeal thrown out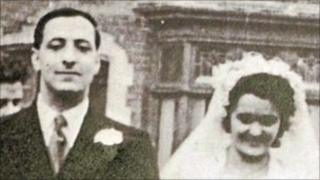 A loyalist killer has failed in his attempt to overturn his conviction for the murder of a Catholic chip shop owner nearly 40 years ago.
Robert James Clarke's appeal was rejected after a challenge to the verdict that he shot Alfredo Fusco.
Mr Fusco, 56, was killed in his north Belfast cafe in February 1973.
The case was reopened by the Historical Enquiries Team after new fingerprint technology allowed them to identify Clarke's prints on the cafe door.
Last year the 59-year-old was sentenced to a minimum of 25 years for the murder.
But he will likely serve only two years in prison due to the terms of the Good Friday Agreement.
Mr Fusco was chased into a storage area of the York Road premises by one of two intruders armed with a machine gun.
When the weapon jammed the killer went back out to his accomplice and swapped guns, using a revolver to shoot Mr Fusco as he tried to barricade himself in.
Clarke's legal team contested the verdict by claiming bad character evidence had contributed to the guilty verdict.
That related to his subsequent murder conviction for the sectarian drive-by shooting of 58-year-old north Belfast woman Margaret O'Neill two years later in June 1975.
Counsel for Clarke also argued that a medical report which said he could not fire a pistol due to the loss of two fingers in an industrial accident was not properly considered.
But Lord Justice Coghlin, Lord Chief Justice Sir Declan Morgan and Lord Justice Higgins rejected that and all other elements of the appeal.
Lord Justice Coghlin said: "We have not been persuaded by any matter relied upon by the appellant that this conviction is in any respect unsafe and, accordingly, the appeal will be dismissed."
Dressed in a suit, handcuffed and flanked in the courtroom by prison guards, Clarke showed no emotion as his challenge was thrown out.