Pigs are killed in trailer crash in Cullybackey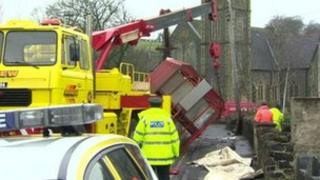 A number of pigs have been killed after a trailer carrying the animals crashed into an electricity pole in Cullybackey, County Antrim.
The incident happened at Main Street in the village at about 08:30 GMT on Friday morning.
It is understood the trailer was carrying up to 100 pigs.
Philip Simpson, who works in a nearby shop, said it was fortunate children who would normally have been walking to school were on half-term holiday.
"The tractor with the trailer came up round the corner at the back of our shop on the Main Street," he said.
"The trailer snapped off the tractor and tipped onto its side onto the footpath, then it hit the pole and took some of the wall out as well.
"The pigs then got trapped in it because it was on its side and could not go anywhere up against the wall."