Marian Price moved from Maghaberry to Hydebank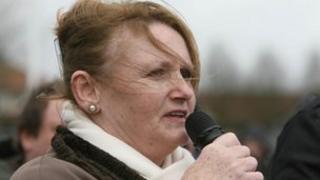 Old Bailey bomber Marian Price has been moved from Maghaberry to the women's prison at Hydebank outside Belfast.
On Thursday night a priest described her continuing detention as a form of internment.
The claim has been "entirely refuted" by NI Secretary Owen Paterson, who revoked her release licence last May.
The prison service has told the BBC the decision to move Price was taken on clinical advice from healthcare staff at the South Eastern Trust.
It said that since being returned to prison nine months ago the prison service and the trust have, on a number of occasions, discussed and reviewed her needs while in custody.
She was returned to prison last May after appearing at a dissident republican rally in Derry and has since been charged in connection with the murders of two soldiers at Masserene a charge she denies.
'Form of internment'
A meeting of supporters campaigning for her release was held in Londonderry on Thursday night.
Former prison chaplain Monsignor Raymond Murray said Mr Paterson's decision had echoes of the past for nationalists.
"This is a form of internment," said Monsignor Murray, who was prison chaplain in Armagh for almost 20 years.
"I am just shocked that the secretary of state wouldn't be aware of how seriously nationalist people look on internment.
"We thought it had all ended and here it is coming under a form of revocation, revoking a license.
"He would have to explain to us and explain the process of law as regards Marian Price.
"In any way has she broken the law? That would have to be provided but it is not provided by shoving her into prison on a pretence in an unjust way."
On Friday, Deputy First Minister Martin McGuinness also criticised her detention.
"That action by Owen Paterson amounted to detention without trial and runs contrary to natural justice," he added.
"Sinn Fein has raised its concerns on this issue at every opportunity and will continue to press Owen Paterson on it as a matter of urgency."
'Protection of the public'
However, the Northern Ireland Office said: "Following a recommendation from the independent parole commissioners, the secretary of state revoked Marian McGlinchey's licence on 15 May 2011.
"In accordance with the provisions of the Life Sentences (Northern Ireland) Order 2011, the secretary of state may revoke a licence where it is necessary for the protection of the public from serious harm and to prevent the commission of further offences.
"Those released on licence have an obligation to act within the terms of their release.
"Mrs McGlinchey has been charged with two offences under the Terrorism Act 2000, one of which is in connection with the Masserene murders.
"In these circumstances, and considering the need to protect the public, Mrs McGlinchey's licence was revoked. An independent panel of parole commissioners is now considering her case.
"The secretary of state entirely refutes the allegation that this is internment without trial.
"Due process has been followed at all times: Mrs McGlinchey is aware of the case against her and has an opportunity to challenge it, and submit evidence on her behalf, during the course of the parole hearing."
Justice committee chair Paul Givan of the DUP, said claims of internment were "reckless and dangerous" and said he supported the action taken by Mr Paterson.
"It feeds the propaganda of dissident republicans who want to take Northern Ireland back to our troubled past," he said.
Commenting on Price's move to Hydebank, Mr Givan questioned her placing in Maghaberry - an all-male prison.