Northern Ireland buses get electronic back-seat driver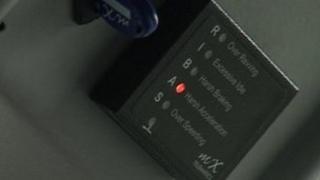 Motorists are constantly advised that smooth driving saves fuel.
Ulsterbus has taken the advice to heart by fitting electronic monitors to some of its buses.
These electronic "backseat drivers" beep and flash at drivers who accelerate too quickly or brake harshly.
It is part of a pilot scheme being tried out in and around the County Down town of Bangor.
So far it has reduced the company's fuel bill and prevented tons of CO2 entering the atmosphere.
"It's a project that we started 12 months ago," Ulsterbus's service delivery manager Richard Hudson said.
"We put a piece of equipment into the driver's cab which monitors acceleration and braking of each driver to reduce diesel consumption.
"We've reduced it by 7.5% and we've also saved in the region of 80 tons of CO2. That's the equivalent of 1,600 hundred return journeys by car from Bangor to Dublin."
Ulsterbus, part of a government transport agency, runs services across Northern Ireland's rural areas and in most of the main towns.
Unlike the rest of the UK there are few private bus operators, with most services provided by the government agency.
The daily information is fed back to the bus depot where the driver's performance is compared with their colleagues in the form of a league table. At the top in the green zone are the smooth drivers.
At the bottom and in the red are those who are less gentle with the buses.
"The drivers are very interested in the scheme," said Richard Hudson.
"The ones at the top of the scale (in the green zone) will come in and ask questions about what bleep was what.
"We'll have a wee chat with the drivers at the bottom (the red zone) and advise them how they are doing. There is good interest from the drivers".
One of the drivers with the system in her bus is Karen Graham.
"It actually makes you be a bit better with the accelerator or the brake. You understand when you've taken off too fast or you've braked too hard," she said.
"So every time it bleeps you can look up and see where you've gone wrong with the driving. This makes us drive that wee bit better".
An added bonus is that passengers get a smoother ride. Ulsterbus are preparing to introduce the scheme to Derry City, saving more fuel and CO2.