Anna Lo victim of Belfast hijack attempt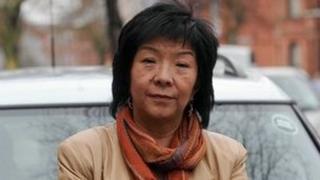 South Belfast Alliance Party MLA Anna Lo has spoken out after a youth with a knife attempted to steal her car on Friday.
She was threatened on Lawrence Street at about 12:45 GMT. However, the attacker ran off without taking the car and Ms Lo was not injured.
"I think he recognised me and ran away," Ms Lo said.
She added that the attacker could have been as young as 11 to 14 years of age.
"I had left a bag and my handbag behind the driver's seat and as I straightened up out of the car, he was behind me.
"He had a big kitchen knife - this was not a pen knife - I would say it was a six-inch kitchen knife."
She said he demanded her keys, but when she refused to hand them over there was a brief stand-off, before the would-be thief ran off through a nearby alleyway.
The assembly member said she got into her car and drove a short distance, before stopping to dial 999.
"I am not the only person that has suffered such an ordeal and my thoughts continue to be with anyone who has suffered at the hands of those involved in such acts.
"This incident serves to highlight the need for everyone to be vigilant in relation to carjackings. We need to have those behind such acts brought to justice," she added.
The PSNI has established a dedicated taskforce to address recent car hijackings in the Belfast area.
Since the start of the year there have been 13 carjackings and six attempted hijackings.
This has led to the arrest of 10 people and four others being charged.
Police have appealed for witnesses to the latest incident to contact them.