Masked gang pull women from parked car in west Belfast hijacking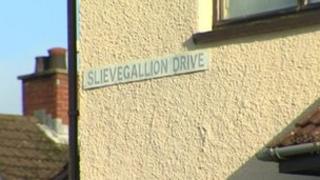 Four teenagers, aged 18, 19 and two 17, have been released on bail following a hijacking in west Belfast in the early hours of Saturday morning.
Two women were pulled out of a parked car in Slievegallion Drive shortly before 01:00 GMT.
Their attackers were masked and one was armed with a knife. The stolen car was stopped by police in Dunmurry after a short pursuit.
SDLP councillor Tim Attwood described the hijacking as "very frightening".
"Thankfully the police were in pursuit very quickly," he said.
"There's additional resources put in to ensure that especially women feel safer when they are driving about Belfast and that obviously they have additional resources to pursue those criminals who do these carjackings."
The PSNI has established a dedicated taskforce to address recent car hijackings in the Belfast area.
Since the start of the year there have been 14 carjackings and six attempted hijackings.
This has led to the arrest of 10 people and four others being charged.