Car found on fire after hijacking in west Belfast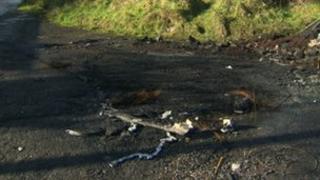 Another woman has been targeted in a hijacking in west Belfast.
She was approached by two men as she returned to her car after posting a letter at Springfield Parade at about 19:30 GMT on Saturday.
The woman, who has spoken of her shock, said the men asked her for the keys, which she handed over immediately.
"A young girl on her her own - I was an easy target. I don't feel I can drive on my own anymore or go out on my own," she said.
The men, who wore dark hooded tops and scarves over their faces, made off in the Renault Megane.
It was later found on fire on the Ballygomartin Road.
The woman said she could not believe it when police told her a car had been found burnt out.
"I was automatically thinking it wasn't mine," she said.
"Who takes a car just to go and burn it within 10/15 minutes."
Lower Falls SDLP councillor Colin Keenan described the location of the hijacking as "a very quiet residential area".
"The police have assured me they are taking this very, very seriously and that they will be putting additional resources into policing this area," he added.