Two men treated in hospital after fire at Derry flats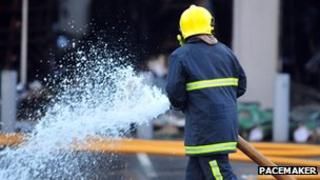 Two men have been treated in hospital following a fire at a block of flats in the Waterside area of Londonderry last night.
Nine people were forced to leave their homes while fire officers, wearing breathing apparatus, dealt with the blaze at Duddy's Court.
The fire is believed to have started accidentally.
Station Commander Jonathan Tate said it was a challenging fire to deal with.
"The property to the left and underneath the affected property were evacuated until we dealt with the fire and we checked for any smoke damage," he said.
"This fire was particularly difficult because of the location."