The UUP's John McCallister calls for organ donation opt-out system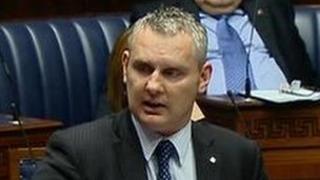 The deputy leader of the UUP has called for research on an opt-out system for organ donation.
John McCallister said he wanted the executive to consider drawing up a law for presumed consent donation unless people indicated otherwise.
Seventeen people in Northern Ireland died between April 2010 to April 2011 whilst on the waiting for list for organ transplants.
There are 288 people waiting for a potentially life saving operation.
Speaking on Inside Politics, Mr McCallister said he had been considering bringing his own private member's bill and was willing to hear people's view on the matter.
"If people have a better idea as to how we save those 17 lives, I'm all ears," he said.
"I accept that people will have strong views that the state is over-extending itself and trying too much but we have to find a way of doing this.
"I still come back and say I don't think the state is over-extending itself if you make it easy for people to opt out."
The Stormont Assembly is debating a DUP motion on Tuesday calling for a review of the current system.
The SDLP are also calling for an clinical ethics consultation on the introduction of an opt-out scheme.
The Ulster Unionists have called on Health Minister Edwin Poots to introduce what it calls "an all-encompassing organ donation education programme" and to commission research on a possible introduction of a soft opt out system of organ donation in Northern Ireland.
Mr McAllister wants the executive to follow Wales in consulting on a change for presumed consent organ donation which means that like Spain, people would have to opt out from the register, rather than opting in.
A report into a Welsh government consultation on the matter is expected by the end of February.
There, a bill could be introduced this year and if passed in 2013, it would pave the way for what would be the first system of its kind in the UK.
As of Friday, there were 517,948 people living in Northern Ireland on the UK organ donor register.