Police chief in pledge over carjackings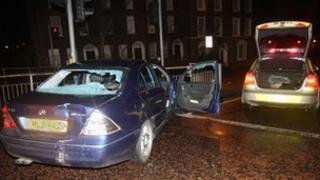 The man in charge of the police team tackling carjackings in Belfast has said "no stone will be left unturned" in dealing with the problem.
Two women had their vehicle stolen in Slievegallion Drive on Saturday. Another woman was the victim of a car hijacking in Springfield Parade.
There has been a series of carjackings in Belfast since the start of the year.
PSNI Chief Superintendent Alan McCrum said it had been "pro-active" on the issue.
He said police had made more than 60 arrests in connection with car crime over the past month and increased the number of officers in the city.
"We will continue to make arrests until we eventually manage to try and eradicate this scourge," he added.
"I want to reassure the community that no stone will be left unturned in doing everything possible to eradicate this scourge.
"We do appreciate the impact it is having on communities, particularly the most vulnerable within communities."
Chief Supt McCrum said the police had been working "tirelessly" to deal with the problem and outlined the legal process police had to follow in terms of arrests.
"We are constrained in terms of the policing criminal evidence act and the legislation around detaining people in police custody," he said.
"We can only do that for an absolute maximum of 24 hours initially and then it requires a superintendent's authority to authorise an extension of another 12 hours.
"At that point we have to have a very strong rationale to go to a court to enable the court to bring an additional further and final holding position for the police service."
Earlier, a Sinn Fein MLA for west Belfast said a campaign was needed to tackle carjacking.
Jennifer McCann said the law needed to be strengthened and more police resources were required.
"There has to be a campaign to tackle it head on," she said.
"If they need more police resources and if there is a legal loophole in the law that means they can't hold people for any length of time until the investigation is ongoing, I think that needs to be changed."
On Friday afternoon, a youth with a knife attempted to steal South Belfast Alliance Party MLA Anna Lo's car on Lawrence Street.
The attacker ran off without taking the car and Ms Lo was not injured.
There have been 15 carjackings in the Greater Belfast area since the beginning of the year. There have also been seven attempted hijackings.