Newspaper review: NI and Republic of Ireland stories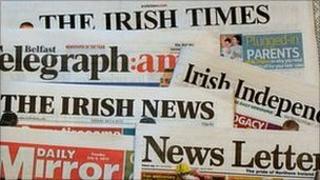 Journalist Keith Baker takes a look at the morning papers.
The Belfast Telegraph front page has separate pictures of eight young people from Northern Ireland.
They are all young professionals who have left here to work in countries abroad - everywhere from Norway to Australia.
The Telegraph says highly-skilled and educated middle class young people are being forced to leave at an almost unprecedented rate.
It says there are fears that the drain of skilled and talented people could have effects that last into future generations with unpredictable consequences for society.
One expert on emigration, based at the University of Ulster, tells the paper: "Nobody knows just how big this issue's going to be."
Dr Johanne Devlin Trew has written a book on the subject.
The Telegraph says this issue is another difficult challenge for Stormont.
Dramatic
The employment of gifted young people, it says, is one of the keys to our better future.
The Irish News has a dramatic photograph on its front page.
It shows two men on the ground at a filling station in North Belfast.
They are being detained by police after a chase which ended in a collision involving a police vehicle, a stolen Mercedes and another vehicle.
But the paper says the police have been criticised after a weekend when six suspected car criminals in all were released on bail pending further inquiries.
One Sinn Fein councillor talks of "lazy policing".
A member of a district police partnership says there is considerable anger about suspects being released.
A police spokesman says investigations into weekend incidents are at an early stage and evidence-gathering procedures are under way.
There's comment in the Mirror. It says the police have to work within the rules but they should consider public safety when allowing those facing allegations to roam free.
Education Minister John O'Dowd comes under scrutiny in the News Letter.
The paper says one in every four of his official school visits have been to just one constituency - his own.
Brought to light
He has been to schools in the Upper Bann area 10 times since he took office last May.
The details have been brought to light by the Green Party leader Steven Agnew.
He represents North Down and the paper says he's wondering whether that constituency has been rejected for ministerial visits because there are no votes there for Mr O'Dowd's party, Sinn Fein.
A spokesman for the Department of Education tells the News Letter Mr O'Dowd doesn't take electoral considerations into account when planning his diary.
In the Dublin papers there is much excitement about the visit of the Chinese vice-president.
We've been wondering when we'd see grim economic news being pushed off the front pages, well that day would seem to have arrived.
The Irish Independent headlines says: "China deal sparks hope for thousands of jobs."
The Irish Times: "Taoiseach hails new phase in relationship with China."
The man himself, Xi Jinping, shows that he is not one to shirk a photo-opportunity.
The front pages show him at Croke Park, wielding a hurley and kicking a ball, although not at the same time.
On top of that there was his visit to a farm in County Clare where a farmer named a calf after him, and a performance of Riverdance.
Miriam Lord in the Irish Times says the hosts pulled out all the stops for the three-day visit and she wonders if Riverdance and a calf called Xi will have done enough to pull in a few extra euro for the kitty.